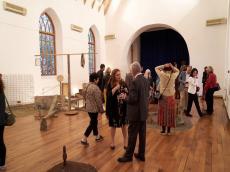 By Azernews
By Laman Ismayilova
Goethe-Zentrum Baku continues to build bridges between Azerbaijan and Germany through cultural diplomacy by organizing exhibitions, presentations, artists talks and many other activities.
The summer exhibition program Goethe-Zentrum Baku was opened by the "Dialogue" curated by Asli Samadova.
Its summer programme, including the launch of Dialogue project curated by Asli Samadova caused a huge interest among art lovers.
The Dialogue project pairs site-specific artworks in the buildings originally built for religious purposes: Egyptian artist Youssef Limoud's Maqam. Poetry of Ruins installation at Neo-Gothic Kapellhaus is coupled with German artist Mischa Kuball's Five Suns/after Galileo at the 15th century Shah Mosque of Shirvanshahs Palace that opened on June 2, Day.Az reported. 
Ruins and the process of decomposition have always fascinated Youssef Limoud, who builds landscapes in his works and recreates memories, both on the physical and the metaphysical levels.
Multiple meanings of the word "maqam" in Arabic give a wide range of exploration and interpretation of Limoud's artwork. One of such stands for modal structure of Arabic music, very similar to Azerbaijan mugham. For that reason Makam. Poetry of Ruins is preceded by a music performance titled "?övq v? H?sr?t" in which traditional mugham is juxtaposed to contemporary jazz. The project had been specially designed for the Azerbaijan Cultural Year in Germany and performed to critical acclaim at the famous Akademie der schönen Künste (Academy of Fine Arts) in Munich on June 25, 2008, and has never been performed since then.
Limoud won the Leopold Senghor award of Dak'art 2016 for his installation Maqam.
The artist represented this installation in several countries around the world. The idea of the work has always remained the same, but its form of implementation has always changed. Limoud always uses local materials for its installation and, beginning the process of creating ruins.
One part of his installation was created after visiting the Alley of Martyrs in Baku.
This visit made a great impression on him and reflected in his artwork.
The exhibition is open daily from 14:00 to 20:00 from June 3 until June 12. Kapellhaus, 35, 28 May str. Free admission.
Notably, Youssef Limoud is an artist and a writer, born in Giza-Egypt, 1964. His paintings and installations have been shown in a number of exhibitions in Egypt and abroad.
Limoud writes, mainly about art, in some Arabic newspapers and magazines. He published some books about art, Egyptian art history, and poetry. He lives and works between Basel and Cairo.