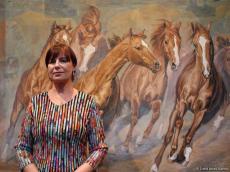 By Azernews
By Laman Ismayilova
"The Living Legacy" exhibition opened at Art Gallery of the Museum Center on May 30.
The event is co-organized by the Azerbaijan Ministry of Culture and Tourism, the Latvian Embassy in Azerbaijan and the Museum Center, Trend Life reported.
The exposition is timed to the 100th anniversary of the Azerbaijan Democratic Republic and the Republic of Latvia, which in 1918 first announced their independence.
Addressing the event, Latvian Ambassador to Azerbaijan Juris Maklakovs said that the works of Latvian artist Dace Štrausa presented in the exposition are dedicated to Karabakh horses. The Karabakh horse is considered one of the national symbols of Azerbaijan.
Dace Štrausa in turn, expressed gratitude to the  event organizers, stressing that she has been living in Azerbaijan for two years and to see Karabakh horses was her dream. The artist said that Azerbaijan's culture, art, architecture inspire her.
The Karabakh horses have conquered the artist forever. Moreover, through her paintings Dace Štrausa seems to return to her first profession.
In 1981 she graduated from the Moscow Timiryazev Agricultural Academy, having received a specialty of zootechnics. But after a while, from 1988 to 1991, she received an art education at the preparatory department of the Latvian Academy of Arts. And in 2005 she became a student a of photo school in Riga. As the artist herself admits, she realized that she needed additional education to be able to master all the necessary apparatus of expressiveness, faithfully reproducing the images of her favorite horses on canvas.
The exhibition will last until June 4.