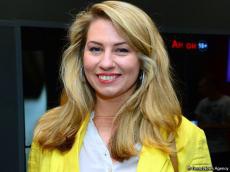 By  Trend
Second IMAGINE Euro Tolerance Festival is underway in Baku, Azerbaijan. The program of the festival, which is held from May 2 through May 17, includes master classes, exhibitions, performances, and of course, film screenings.
As part of the festival, a documentary film titled "Master and Tatyana", shot by Lithuanian director Giedre Zickyte will be presented to the audience at Park Cinema in Flame Towers on May 14.
On the eve of the film's screening, Giedre Zickyte spoke to Trend Life about the story of her film's hero– the well-known photographer Vitas Luckus, what binds him and the film with Azerbaijan, and the reason why the name of the film is so reminiscent of the title of Mikhail Bulgakov's well-known novel.
- The documentary is telling the story of the prominent Lithuanian photographer Vitas Luckus. Why did you choose this topic? What specifically were you interested in?
- It is a story about most universal and many-sided feeling – passion which becomes unpredictable when burning in the heart of the talented artist. The world was too small for Vitas Luckus and his heart was too small for all the passions life had provided him with. That made his life extremely hard for him to endure and especially interesting for us to get acquainted with.
- What is the phenomenon of Vitas Luckus? What traits make his personality remarkable?
- The question that usually bothers me – why are we afraid of those who are (think, live, create and leave us) really free? These are the people I want to talk about and with in my documentaries.
Vitas Luckus was that kind of person. He is the person I would have loved to meet and talk to at least for five minutes. There are so many legends about him. I am still not sure what is true and what is mystified. Vitas Luckus was not the person whose life could be called a model one. However who could define and decide what so-called a "normal life" should be? The obvious thing is that you always can feel the vital charisma and the portrait of absolutely unordinary, passionate, full of contradictions but sincere and true man breaking through all these stories. The same energy flows from his photos that don't let you feel indifferent to the vitality and truth of life caught by a talented photographer's eye.
On the other hand through his portrait I search for the answer where is the boundary where the cognition ends and the loss starts? What price do we have to pay for that?
- Did you manage to reflect all the main events of Luckus's life in your documentary? Is one film enough for that?
- It is impossible. A film is not an encyclopedia and it has its own subjective story… I called my film "Master and Tatyana" because I found it as an angle which helped me to choose between hundreds of topics and materials which I had for film. It is obviously a deliberately reference to Bulgakov's famous novel "Master and Margarita", and not only because of love, demons, spirits, mystical coincidences, artist's life in the Soviet system as well as "manuscripts which do not burn".
When I started doing this film, after some time I realized that I will never be able to know Vitas fully because he is not with us anymore. I can only glimpse into his past life through the reflections of the others. I even didn't have almost any moving image of him. Everything was static, and photography is static, and person is not alive anymore. And his life was full of movement, and cinema is all about the movement! How to solve this paradox, how to make static alive? It was a challenge for me! But everything changed when I flied to the United States and met his wife Tatyana. I am very thankful to her that after 20 years of silence she opened the doors for me both to the incredible archive of Vitas and to their beautiful and tragic love story. I realized that she will be the one who becomes "alive" in the film, the one who will reflect Vitas to me – through her love and through Vitas' archive which she faithfully preserved for so many years. Love and creation are stronger than death.
- You did not only direct the film, but you also authored its script. What are your impressions from working on this documentary? Did you face any difficulties?
Any filmmaker who sets out to make a documentary faces the question of ethics. In "Master and Tatyana" this question seemed hundred times larger. It was very sensitive and fragile, because it inevitably approaches the issues of death and ambiguous murder, which was surrounded by legends and rumors. While making this movie, I realized that there are some questions that simply can't give answers; and that there are some things in life that can't be touched – "let's leave as it is", as Tatyana says in the final scene of the movie.
- Vitas Luckus visited many of the former USSR republics with his photo camera. He had been to Azerbaijan as well. Did you reflect that in the film?
- Of course Vitas visited Azerbaijan. He had many friends there, and made a photography cycle from his amazing travels. I can tell you one interesting detail in the film. I am using a very specific sound of wind which is the main mood motive of my film – it opens the film, goes through the photos, and creates the mystical feeling of eternity. I accidentally found this sound of wind in an old documentary about Azerbaijan – it was recorded in some steppe. This was a very mystical and beautiful sound of wind. I was totally amazed by this sound, it was exactly what I was looking for and I couldn't find anything like that in any sound library. So, I used original recording from that old doc.
- What do you know about Azerbaijan? Have you been here earlier?
- No, I haven't been to your country before, but I heard a lot about your hospitality and great people.
- Let's go back to your work. Do you have any ongoing projects currently?
- Yes, at the moment I am in postproduction of my new film. It is called "The Jump" and I am again searching for the people who want to be free.
- Does the Lithuanian audience have interest in the documentary genre?
- Yes, I am very happy that our cinema theatres recently gives us appropriate windows for releasing documentaries – and the trust pays off as our documentaries are hitting box offices! The last one is complete phenomenon – a creative documentary poem about… our forest which gathers full halls in multiplex ("The Ancient Woods"). Maybe this means that people are missing for real and beautiful?
- Yes, that is probably so. Thank you for the conversation! We look forward to seeing your film in Baku.
"Master and Tatyana" was screened in many festivals across Europe and North America, including the world's biggest and most prestigious documentary festival IDFA (International Documentary Film Festival Amsterdam) in the "Best of Fest" section.
In 2015, "Master and Tatyana" was awarded by the Lithuanian Film Academy with the national award Silver Crane as "The Best Documentary of the Year", as well as in the nominations "Best Director", "Best Filmmaking", "Best Editing".
The film was also screened in Lithuania and broadcast for audience in Italy, Sweden and Poland.