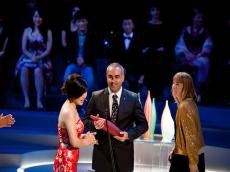 By Azernews
By Laman Ismayilova
Narimanfilm film studio together with Asia Pacific Screen Awards  (APSA) and International Federation of Film Producers Associations ( FIAPF ) announced the 12th Asia Pacific Screen Awards open for submissions for 2018.  
APSA covers the territory of more than 70 countries, consisting of more than four and a half billion people.
Films can be submitted for participation in nominations in four categories:
Full-length feature film (60 min +)
Full-length youth film (60 min +)
Full-length animated film (40 min +)
Full-length documentary (40 min +)
The deadline for submission of films and materials is July 1.
The nominees for the 2018 Asia Pacific Screen Awards will be selected by an independent nominations council, which consists of filmmaking experts, festival directors and composers, film critics and academics from the Asian and Pacific region. Nominations for all categories will be announced at the official conference on nominations, which will be held a month before the award ceremony.
Azerbaijan can be represented by 4 films, one in each category, Trend Life reported.
The competition is open for films  produced between August 1, 2017 and October 31, 2018.
The award ceremony will be held on November 29, 2018 in Australia.
For more information, please contact : +994 12 4916379, +994 55 2603603
APSA is an international cultural program supported by Brisbane City Council and managed by Brisbane Marketing. It is endorsed by foundation partners Paris-based UNESCO and FIAPF-International Federation of Film Producers Associations. The awards ceremony is an exclusive presentation unique to Brisbane and is streamed globally via live webcast.
The main goals of Asia Pacific Screen Awards are to acclaim filmmaking in the Asia Pacific region that best reflects its culture and, origins and cinematic excellence, promote this outstanding work in film to a global audience in order to broaden the market appeal of such works. APSA also aims to encourage collaboration between filmmakers in the region and around the world, develop, through film, greater understanding of the region's various cultures and take the creativity of neighboring cultures in the vast Asia Pacific region to the world.
During its bountiful first decade, APSA has seen more than 2,500 films in competition. United by their diversity, each film has told its own story, in its own way, from its own country of origin. In 2017, the 41 nominated films represents the stories of 25 countries and areas of Asia Pacific.
APSA ceremony brings some of the region's leading filmmakers together in Brisbane for one of Asia Pacific's largest multicultural gatherings.