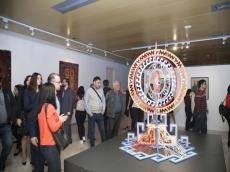 By Azernews
By Laman Ismayilova
An exhibition "Interlacing of time" has opened in Azerbaijan Carpet Museum as part of the project "Reincarnation".
The project, created by a group of artists in 2015, aims to demonstrate a creative attitude, individual perception and philosophical understanding of the events.
Addressing the event, Director of the museum, chairman of the ICOM National Committee Azerbaijan, Ph.D. in art criticism Shirin Melikova said that the main goal of the exhibition is to reveal a modern look at the Azerbaijani carpets, the vision of carpet elements and, in general, the display of the carpet in the artist's imagination.
"The works of concept artists were integrated into the museum's exposition last year, and this produced an excellent result. The works of such well-known authors as Butunai Hagverdiyev, Farid Rasulov, Faig Ahmed and Chingiz Babayev, based on Azerbaijani carpet-making traditions, invariably attract the attention of the audience. This covers issues related to the constant development of the museum and the attraction of a new audience," said Melikova.
It was stressed that such projects enhance the ties between artists and museums.
Ziyadkhan Aliyev, a member of the Azerbaijan Artists' Union and the Azerbaijan Union of Theater Workers, Honored Art Worker, Associate Professor of Azerbaijan Academy of Arts, stressed the importance of the project and the exposition for further popularization and development of national carpet weaving, one of the traditional, ancient arts and crafts Azerbaijan.
In November 2010, the Azerbaijani carpet art was included into the Representative List of the UNESCO Intangible Cultural Heritage.
Then the guests got acquainted with the exhibition of works by members of the Artists' Union of Azerbaijan Elshan Sarkhanoglu and Eldar Babazade created in the genre of installations, painting and graphics. Guba-Shirvan type carpets related to the 19th century are also exhibited from museum's collection. In their works, artists creatively transformed the main motives of the carpets. 
The exhibition will last until April 28.