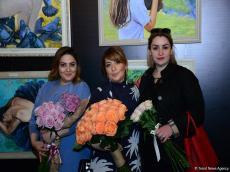 By Azernews
By Laman Ismayilova
A group exhibition of talented female artists opened in Port Baku Mall on April 16.
The exhibition brought together spirited and talented female artists who showed the eternal power of colors, Trend Life reported. Famous female artists have worked hard to become the best that they can be.
They brilliantly captured the women's beauty in their works. 
Dripping with rich color, one could spend many an enchanted hour looking at these beautiful paintings.
Famous for their unique style, artists Kamala Aliyeva, Saadat Isayeva, Marta de Riva (Argentine), Jasmine Fracassetti (Italy), Jalya Hasanova, Kubra Veliyeva, Narmin Sadigov, Samira Agayeva, Ellada Ismailova, Aida Agayeva, Aisha Gurbanova, Ayla Agayeva, Lala Shukurova, Maryam Shirin, Gulnar Aliyeva, Fidan Zeynalova and Pakiza Kilinc (Turkey) created the works that perfectly reflect the high spiritual mission of women, who are the inspiration for all kinds of creative processes.
The artists used different styles and techniques in their  paintings. All the works were united by a common theme "Nature, woman and beauty."
Marta de Guesada, the spouse of the Ambassador of Argentina to Azerbaijan, has been living in Azerbaijan for five years. In her works, artist tried to show some similarities between Azerbaijani and Argentine women.
"Our women have much in common-loyalty, emotionality, kindness, mercy and hospitality. And love of culture and art makes us even more beautiful," said Marta de Guesada.
Jasmine Fracassetti, the spouse of the UN staff member in Azerbaijan told about woman's nature.
"Women is sensitive and complex at the same time. She can seem quiet and inconspicuous, but has the keys to everything. And the most interesting things happen when she draws a woman, revealing her mysterious image but being  a  mystery at the same time", she said.
Pakiza Kilinc who has lived in Azerbaijan for twelve years, is the wife of a businessman, and a master of the Azerbaijan Academy of Arts.
"In my paintings I tried to show my inner world, thoughts and aspirations, as well as the color of modern women, the desire to achieve my goals, live bright and beautiful," she said.
Kamala Aliyeva`s works are rich in bright vibrant colors. The uniquely illustrated floral paintings immediately grab the attention of art lovers.Her stunning  paintings truly bring colors alive.
Notably,  the exhibition is co-organized by Baku the International Women's Club, Wives Ambassadors Club "HOMS" and Port Baku Mall.
The organizers hope that the exhibition will appeal to all visitors and, possibly, inspire them to realize their creative abilities.
The exhibition will last until April 19. Admission is free, from 10:00 to 22:00.