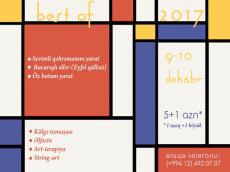 By Azernews
By Laman Ismayilova
Azerbaijan National Art Museum  has a special surprise for kids this winter. The program "Best of 2017" awaits little guests on December 9-10, Azertac reported.
During the event, kids will enjoy fascinating entertainment program. Young visitors have a chance to create their own heroes, paisley pattern and even the symbol of Paris Eiffel Tower. Moreover, little visitors will join art therapy, useful treatment tool for kids.
Ticket price is totally 6 manats ($3) for one kid and one adult. 
For more information, please call:
(+994 12) 4920707
The Azerbaijan National Art Museum is a treasure house that preserves the national moral values and cultural heritage. This treasure house, holding more than 17,000 artistic exhibits, has a rich working history. The Art department was separated from the Azerbaijan State Museum in 1936 and organized as an independent museum by decision of the Council of People's Commissars. 
In 2006 thorough restoration work was carried out to the building and in 2009 a new exhibition was opened.
In 2011 the museum was declared to be of first National and then European Museum Standard (EUMS), meeting international standards and criteria, as appropriate for a museum and implying high quality museum services and professional experience.
This was by unanimous decision of the Council of Directors of the European Economic Chamber of Trade, Commerce and Industry – EEIG - located in Brussels.