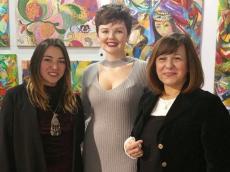 By Azernews
By Laman Ismayilova
Azerbaijani artists continue to conquer the world's art scene. This time seven national artists presented their works at Art Shopping Cannes in France on December 2-3.
The unique works of Asmar Narimanbayova, Jamala Rahmanli, Esmira Gulakhmadova, Aysel Badalova, Fidan Zaman, Selin Najafbeyli and Sariya Ahmadova  were put on display in the "Asmar Art" pavilion of national artist, Asmar Narimanbayova, Trend Life reported.
The works of national artists caused great interest of art lovers.
The guests of the exhibition highly appreciated colorful palette, elegance of forms and great compositional solutions.
Asmar Narimanbayova was born in a family of eminent artists. Her father Togrul Narimanbayov, was world-famous Azerbaijani artist, while her mother Elmira Huseynova was a sculptor.

She grew up in the atmosphere of love to art, music and literature. Narimanbayova is an artist full of light, wide and enthusiastic soul. While creating works in different styles starting from fauvism to impressionism, then from postimpressionism to cubism and expressionism, the artist has found her individual creative manner of the letter, the original color sensation acting as a composition dominant. She has been characterized for her bold and engaging style.

Colors in her artworks fill the form with dynamics and saturate her canvas with the strong energy. Narimanbayova's works are displayed in exhibitions, international festivals and symposiums all over the world.
The creativity of the national artist has been appreciated by art professionals, and many connoisseurs and art lovers.
Her works are featured in many prestigious galleries in France, Russia, New York, Ankara, Beijing, Berlin and London.
Esmira Gulakhmadova is a talented artist whose works have been exhibited in Carrousel du Louvre gallery in Paris, France. Together with Jamala Rahmanli, she delighted Bakuvians with more than 40 paintings early in October.
Aysel Badalova is a young artist who works in different styles nd techniques. Her works stand out in bright colors, through which she is trying to convey the mood of warmth to her paintings. During the creation of a new work, she mainly listens to her thoughts and feelings, that's why the key factors for starting a successful work for her are mood and atmosphere.
The inspiration for her are such things as traveling, which she calls the second passion. Exploring new places, meeting new people. Most of her time, Aysel spend in the studio, it brings her a lot of joy, which is important to convey feelings on canvas. She often participate in various creative events and exhibitions, and help to create them. 
Another national artist Fidan Zaman calls all her works a dialogue with the audience. The artist believes  that each painting must carry a message. The main source of inspiration for the artist is love in all its manifestations. She thinks that the painting should touch souls.
Despite the fact that she is a master of political science by education,  Fidan was fond of painting since childhood, as well as needlework (embroidery, knitting, beading). Most of the artist's works are associated with the impressionism style.
During these years, the works of the Azerbaijani artist were shown at exhibitions in Baku and abroad. Her paintings were selected twice for Art Shopping in France in 2014 and 2015.
Selin Najafbeyli is very young artist, but she is already a participant of international and local exhibitions. Her paintings were awarded with various degrees.
At the age of six, she was enrolled in Asmar Narimanbayova`s art studio. Her teacher  Honored Artist of Azerbaijan Jamala Rahmanli  always supports young artist.