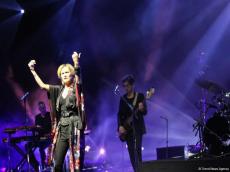 By Azernews
By Laman Ismayilova
Her songs crack open hearts, inspire love, and leave listeners with deep emotions.
Over three years ago, Patricia Kaas performed with a concert in Baku, and those who witnessed her performance were ultimately impressed by singer's voice.
In May 2014, French singer delighted Baku audience with concert program "Kaas Poet Piaf", dedicated to the the French diva Edith Piaf.
Patricia Kaas rocked Baku stage once again in front of her fans.
The concert took place at Heydar Aliyev Palace on October 18, Trend Life reported.
Since the appearance of her debut album,  Patricia Kaas has sold over 17 million records worldwide. The French singer had her greatest success in Germany, Switzerland, Belgium, Canada, Russia, Finland, Ukraine and many others.
After the success of "Kabaret" (2008), dedicated to the great women of the 1930s - Marlene Dietrich and Greta Garbo, and "Kaas chante Piaf" (2013) - a songs collection of legendary Edith Piaf, Patricia Kaas is back with new hits.
This time she performed her best songs and compositions from the new album "Patricia Kaas".This is the tenth studio album, the first for the last 13 years, which included only new songs. With a new album and world tour, French singer starts a new chapter in her career.
The Baku audience met the singer with thunderous applause.
Songs performed at the concert reflect what the singer feels today, what she really cares about. Along with the compositions from the new album, Patricia Kaas performed her old songs so beloved by the audience, such as "Mademoiselle sings the blues".
Patricia Kaas gave her Baku fans unforgettable emotions.  Bakuvians will remember her concert  for a long time.