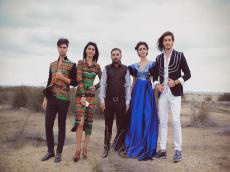 By Azernews
By Laman Ismayilova
If you find yourself feeling a little less cheerful than you were during season change, rest assured it's not your imagination. There is a reason you're more likely to feel down in the cooler months.
Seasons can cause changes not only in mood, but also in the energy level, sleeping, eating, social and behavior. 
Azerbaijani designer Fikret Aliev has presented gorgeous outfits that can cheer your mood when you're feeling sad.
Fashion collection "Secret" has plenty of bright colors. The vibrant outfits add warm notes to everyday life.
"When the autumn season comes smoothly turning into winter, people's moods change for some reason. I tried to give preference to bright colors in order to bring positive touches to life. The secret of my collection is  good mood and a range of only positive feelings," said designer.
Notably, Fikret Aliyev's collections were previously presented at various international festivals.