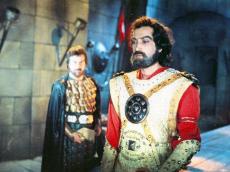 By Azernews
By Laman Ismayilova
The first teaser of the "Babek 2020" movie dedicated to the most heroic freedom fighter of Azerbaijan, Babek Khorramdin, was released.
Babak Khorramdin was the initiator of the Khurramites movement, a freedom fighting movement aimed to overthrow the Arab Caliph occupiers and at the time rulers of Iran.
The film director is Zaur Tahirsoy; the head of graphic works is Famil Asadov (LIMAF). The movie aims to inspire the Azerbaijani youth, increase patriotic and statehood atmosphere.
Tahirsoy, talking to Report.az, said that the movie will write down a history in the Azerbaijani film industry.
"Classics are always valuable; however, innovations are also important in the modern world to attract the attention of people. It is necessary to produce something relevant to the present time. Like other fields, it is significant to pay special attention to this in the film industry as well. Therefore, we have launched the "Babek 2020" project," said the director.
The cast includes Rasim Balayev, Hasan Turabov, Amalia Panahov, Tamara Yandiev, Shahmar Alakbarov Mammad Verdiyev, Isaev Hamid, Enver Hasanov and others.
Along with professional Azerbaijani actors, it is also planned to invite foreign actors.
Fashion designer Shalala Magsudova will be in charge of the actors' clothes.
The film describes the story of Babek's life and the national liberation movement. For twenty years of hard struggle, the great hero won many battles. However, as a result of treason, he was taken prisoner. Babak refused the offer to redeem his freedom at the cost of treason.
The hero was executed in a cruel manner: the Caliph's henchmen first cut off his legs and hands. The legend says that Babek bravely rinsed his face with the drained blood pouring out of his cuts, thus depriving the Caliph and his army from seeing his pale face.