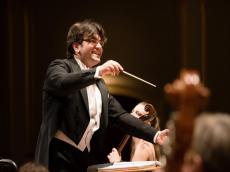 By Azernews
By Laman Ismayilova
Over the last years, Azerbaijani conductor Eyyub Guliyev`s name is seemingly everywhere.
The 32-years-old conductor is the winner of several competitions, including the International Conducting Competition after B. Lyutoslavckiy in Belostok in 2006 and the International Conducting Competition after D. Mitropoulos in Athens in 2008. 
In 1998 upon the decree of the President of Azerbaijan Republic the name of Eyyub Guliyev was included into the Presidential "Golden Book of Young Talents" and he also has become the President's scholarship holder.
This year has also brought many positive changes in the life of conductor.
Upon the decree of the President of Azerbaijan Republic, Eyyub Guliyev has been awarded the title of Honored Artist of Azerbaijan. Moreover, conductor took the second place at first "Debut Hamburg 2017" music contest in Germany.
" All rewards that I get abroad are very important, but for me because they are addressed not only to me but to our country. It's  the achievement Azerbaijani musical culture". However, awarded the title of Honored Artist that has been given by the President Ilham Aliyev is of particular importance," said Guliyev in his interview with Day.Az.
He also stressed the government's role in development of Azerbaijani culture.
"I am very fortunate that our state always supports musicians. In 1999, I received the first scholarship and by order of the National leader Heydar Aliyev was included into "Golden book of young talents". In those difficult years this scholarship was a big motivation. Heydar Aliyev has attended all of our concerts. Today, President Ilham Aliyev, the newly appointed First Vice-President  Mehriban Aliyeva, who also heads the Heydar Aliyev Foundation  pay great attention to young artists", he said.
In his interview, conductor stressed that large-scale musical projects are being held in country.
" A number of  theatres  and festivals are canceled  in other countries due to lack of funds. However, grandiose festivals are being held in Azerbaijan. Large-scale musical projects for young musicians is a priority. They have a chance to  perform together with their famous counterparts", he said.
Eyyub Guliyev also spoke about his successful performance  "Debut Hamburg 2017" music contest held in Germany.
" I was primarily  attracted to the jury of the contest. I wanted to know  their opinion about Azerbaijani conductor, wanted to test their strength", said conductor.
" First, it was necessary to pass the qualifying round, which was very difficult. This competition gives you an opportunity to perform with German's famous orchestra-Klassik Philharmonie Hamburg. We performed works by Edward Elgar and Sergei Prokofiev, who I had never conducted before. It's very prestigious competition which allows to promote Azerbaijani music in Europe", he added.
Eyyub Guliyev also spoke about his first competition. The conductor received his first award at Lutos?awski competition held in Poland in 2006. After that he was often invited to Poland where he actively promoted Azerbaijani music.
But the most prestigious for conductor was the International Conducting Competition named after Arturo Toscanini in Parma, ?taly.  During 19 years nobody had won first prize of the contest. It was so honorable that the Azerbaijani conductor was the first who took the first place. After that, Guliyev I was invited on a concert tour with the orchestra named after A. Toscanini.
"Azerbaijani music is perceived with great enthusiasm.We are always asked play some works by national composers. Through these competitions we have the opportunity to promote Azerbaijani music in the world. And by winning these contests, you have the right to make changes in the repertoire of orchestras. Now, after winning the recent competition in Germany, I have already received an invitation to perform with different orchestras. I will try more often to choose for a concert of Azerbaijani classical music",  he added.