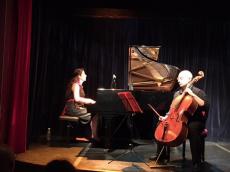 By Azernews
By Laman Ismayilova
Azerbaijani singer and pianist Saida Zulfugarova has given a concert in Paris, France.
The concert titled "Music in all directions" took place at the Paul Rey Theater, Azertac reported.
An Azerbaijani pianist was accompanied by Antonia Denavit (soprano), Antoine Desmard (cello).
The concert featured works by famous composers C. Kachchini, G. Hendel, L. Beethoven, A.Rubinstein, P. Tchaikovsky, R. Adler, J. Ross, and G. Gershvin.
Saida Zulfugarova studied at the Baku Music Academy. She also received a degree in music studies at the Sorbonne University in Paris. Her diploma work was dedicated to the creativity of outstanding Azerbaijani composer Gara Garayev.
In 2012, she started to work as  a choir academician at the Sorbonne University.
The pianist is a winner of many national competitions.
Saida Zulfugarova awarded the French State Diploma.