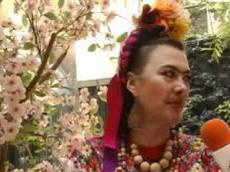 By Azernews
By Laman Ismayilova
Famous Mexican actress and singer, Ana Alicia Salas has performed in Baku. 
The event titled "Frida. Amor, Dolor y Canción", organized by the Mexican Embassy in Azerbaijan, allowed the art lovers to familiarize themselves with different stages of life of the icon of Mexican art.
At the event, Ana Alicia Salas delivered a monologue about the life of the world-known Mexican painter Frida Kahlo, Trend reported.
The audience also received an opportunity to enjoy the traditional Mexican music.
Since the beginning of her artistic career, Ana Alicia Salas has acted in films, theater and television.  In 1980 she obtained the title "Orquídea del Cine Nacional". Ana Alicia has traveled frequently to several countries to represent Mexico. She performed in Ireland, Spain, Italy, France, China, the United States and Colombia. 
Most recently, Baku hosted a photo exhibition dedicated to the life of prominent Mexican artists Frida Kahlo and Diego Rivera .
'A smile in the middle of the way' expo, organized by the Embassy of Mexico in Baku , features photos from the family archive of the artists.
One of Mexico's greatest artists, Frida Kahlo began painting after she was severely injured in a bus accident. She later became politically active and married fellow communist artist Diego Rivera in 1929.
After her accident, Kahlo began to paint, to occupy herself during her three-month immobilization. Self-portraits were a dominant motif then. Kahlo once said, "I paint myself because I am so often alone and because I am the subject I know best.
Kahlo created at least 140 paintings, along with dozens of drawings and studies. Of her paintings, 55 are self-portraits which often incorporate symbolic portrayals of physical and psychological wounds. She insisted, "I never painted dreams. I painted my own reality."
She exhibited her paintings in Paris and Mexico before her death in 1954.
Diego Rivera had a great influence on Kahlo's painting style. Kahlo had always admired Rivera and his work.