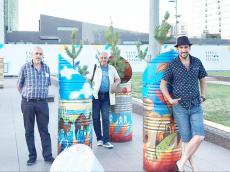 By Azernews
By Laman Ismayilova
Colorful barrels designed by Azerbaijani artists are on display at the Astana Art Fest 2017.
Astana's traditional Art Fest, this year titled "Nomad Energy," kicked off on June 17 on the Nur Zhol Boulevard. The 90-day event will be the biggest Art Fest yet, organizers say.
NGO Arts Council Azerbaijan and "H. E. Art" environmental art-project participate in the Astana Art Fest 2017 and present art project together with artists Eldar Babazade and Namiq Ismayilzade.
In the contemporary arts category, "H. E. Art" presented an installation 'The Flame Towers' made of steel barrels, and decorated with national motives, Trend Life reported.
The new and grand symbol of Baku, the Flame Towers, is the tallest skyscraper in Baku, Azerbaijan with a height of 190 m (620 ft).
The towers' shape was inspired by the city's history of Zoroastrian fire worshipping and its ongoing connection with natural gas. The towers are completely covered with the LED screens that display the movement of a fire visible from the farthest points of the city.
The author of the project and head of Arts Council Azerbaijan, Dadash Mammadov said public areas of cities are literally transformed with the skillful use and redesign of metal barrels.  
"Metal barrels are waste material. Their removal and disposal are expensive. This project creates an opportunity for environmental use of barrels and development of creativity. Metal barrels as containers are very elegant and modern, and fit well into various architectural styles", said Mammadov.
"These compositions, painted in a different style, make a wonderful addition to the urban landscape, performing both environmental and design functions. The gardening with art barrels allows you to use for landscaping even at small space. The mobility of barrels allows to quickly move them to new locations. The decorated barrels will attract the attention of tourists and locals", he added.
Speaking about Astana Art Fest 2017, Mammadov stressed that the festival is a good opportunity to strengthen cultural relations between Azerbaijan and Kazakhstan.
Astana Art Fest showcases the achievements in the field of culture, including design, architecture, choreography, modern art, theatre, scientific and technological innovation, various forms of social practices: leisure, educational.
 The festival will last to September within the international exhibition Astana EXPO-2017.