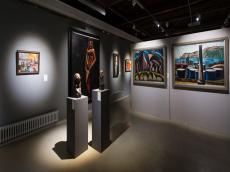 By Azernews
By Laman Ismayilova
Saint-Petersburg hosts an exhibition of Azerbaijani artists and sculptures.
The event entitled "Born by Absheron wind" takes place in Erarta Museum of Contemporary Art, the largest Russian museum of contemporary art with over 2300 works by more than 170 artists, Trend Life reported.
Art historian, curator of the exhibition, Maria Filatova, talking to a journalist of the inter-parliamentary group of friendship between Russia and Azerbaijan, spoke about the popularity of Absheron school of art.
"No doubt, Azerbaijan is a country that combines spiritual values of the East and West, occupies an important place in the historical and cultural heritage of Eurasia. Since ancient times, Absheron has formed a unique culture, embodied in the characters of people, their traditions, music and dance, literature, architecture and decorative art. With its bright coloration, Absheron gave rise to the many fine artists whose work is so original, that it is sometimes difficult to classify it to any particular direction. The art of the Azerbaijani masters of the 1960s-1980s years – a phenomenon unique in wholeness and multicultural in its origins", she said.
"Highly emotional and  vivid works of Javad Mirjavadov, Rasim Babayev, Togrul Narimanbayov, subtle impressionistic canvases of Sattar Bahlulzade, amazing sculptures of Fazil Najafov and other artists ' work exhibited in many all-union exhibitions during the Soviet times. Now we can say that we rediscovered this art for the Russian audience," she added.
The art historian further stressed that the choice of the works was very difficult as talented artists have created many beautiful works. Most of the works, including paintings by Javad Mirjavadov, Rasim Babayev Tofig Javadov (including his huge painting "Oil industry"),  Ashraf Murad and monumental sculpture by Fazil Najafov were brought from Baku.
Filatova also spoke about cultural ties between Azerbaijan and Russia, stressing that the two states have strong historical and cultural ties.
"Azerbaijan regularly holds summits, forums and conferences with participation of experts from around the world, including Russia. Mutual dialogue, trust and constant interest to each other gives rise to new ways of cooperation, leads to the creation of great joint projects and fills the world with new colors," she concluded.