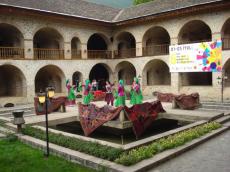 By Azernews
By Laman Ismayilova
The 8th Silk Way International Music Festival will take place in Sheki from June 27 to July 1, bringing together musicians from Japan, Poland, Belarus, India, Turkey, Georgia, Hungary and other countries. 
The artistic director of the festival, composer Firangiz Alizade, chief conductor of the Azerbaijan State Chamber Orchestra named after Gara Garayev, Teymur Goychayev, Vice-rector of the Baku Music Academy, Professor Gulnaz Abdullayeva, Deputy-Head of the Embassy of Hungary Dr. Laszlo Makk, composer Aygun Samadzade, Secretary of the Azerbaijani Union of Composers,Professor Zemfira Gafarova, conductor of Azerbaijan State Border Service orchestra Samad Vakilov, son of the eminent composer Jovdat Hajiyev - composer Ismayil Hajiyev organized a press conference in Baku ahead of the event.
The participants emphasized that the festival promotes rich history, architecture and folklore of the Sheki region. Firangiz Alizade noted that the interest in the festival is growing year by year.
The opening ceremony will be held in Markhal Theatre, featuring a creative evening in honor of composer Aygun Samadzade.
The State Chamber Orchestra named after Gara Garayev soloists, including People's Artists of Azerbaijan Enver Sadigov (accordion), honoured artists Elnur Ahmadov (kamancha), Nurlan Novrasli (vocals), Aygun Beyler (vocals) and others will perform at the event, Trend Life reported.
Sheki Musical College will host a concert devoted to the 100 anniversary since the birth of the prominent Azerbaijani composer, Jovdet Hajiyev, on June 29.
In addition, music band "Va-Liga" (Japan), singer and cymbalist Anija Brody, trio Guessous Mesi (Hungary), dance group "R." (Iran), children's choreographic ensemble "Tolige" (Georgia), Izmir State Dance and Music Ensemble (Turkey), Azerbaijan Ensemble of the Ancient Musical Instruments and others will please guests with brilliant performances.