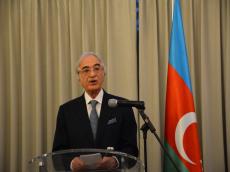 By Azernews
By Laman Ismayilova
Azerbaijan`s Permanent Mission to UNESCO has arranged an iftar party with the participation of candidate to UNESCO Director General`s post Polad Bulbuloglu.
Head of Azerbaijan`s Permanent Mission to UNESCO Anar Karimov, addressing the event, stressed that the month of Ramadan is the month of tolerance, peace and solidarity.
The ambassador said that Azerbaijan has turned into one of the fastest developing countries of the world in the last years, Azertac reported.
He also stressed that Azerbaijan is historically tolerant country and spoke about the country's role in intercultural dialogue. "Azerbaijan is a country, where representatives of different confessions and nations lived in peace," he added.
Karimov further talked about what was done by the Azerbaijani government preserve and promote multiculturalism globally.
He noted that the Heydar Aliyev Foundation under the leadership of Azerbaijan`s First Vice-President Mehriban Aliyeva carried out a number of projects in several countries for preservation of religious and historical monuments.
In his speech, Bulbuloglu said all religions served to tolerance and dialogue, describing Azerbaijan as an example of co-existence of people of different religious and ethnic backgrounds. He said multiculturalism is an integral part of state policy of Azerbaijan.
Bulbuloglu pointed out that ethnic and religious diversity is Azerbaijan's national asset.
He said that Azerbaijan has developed an exemplary model of multiculturalism, adding the country pays special attention to preservation and further development of historical and cultural heritage.
"UNESCO has an invaluable role in protecting the cultural heritage and intercultural dialogue. We need to support this Organization", he said.
Jeyhun Rustamov highlighted living in peace and stability of representatives of various confessions in the country, adding various peoples of the region have historically enjoyed good-neighborliness, friendship and cooperation based on the robust tolerance traditions, mutual respect and trust.
Azerbaijan signed and ratified almost all the conventions and other legal instruments of UNESCO. In 2003, Azerbaijan and UNESCO signed the framework agreement on cooperation in the areas of culture, science, education and communication, which allowed Azerbaijan to become one of the donors of UNESCO.