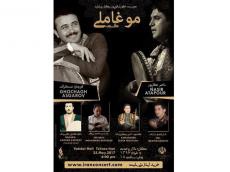 By Azernews
By Laman Ismayilova
Azerbaijan's famous khananda Gochag Asgarov will give a concert in Iran.
The gala concert will take place in Tehran's Vahdat Hall on May 25, Trend Life reported. Asgarov will perform folk songs, mughams and  tasnifs (ballades) on the stage.
The event will bring together Iranian mugham singer Nasir Atapur and Azerbaijani musicians – Ibrahim Babayev (tar), Elnur Mikayilov (kamancheh) and Kamran Karimov (naghara).
Gochag Askarov experienced a colorful life that was however full of danger before becoming a famous mugham singer. He was born in 1978 in the Fizuli region, which is currently in the Armenia-occupied part of Azerbaijan. Gochag spent his childhood in that magnificently beautiful place with rich nature, which evokes talents in creative people.
Gochag started to sing while he was a child. Remembering those times, he says that he usually sang for his friends while shepherding in the meadows. Supporting his love for music, Gochag's parents sent him to a local music school.
However, a happy childhood came to an end in 1992 when Armenia launched a war against Azerbaijan. The war between the two South Caucasus republics displaced over a million Azerbaijanis. 20 percent of Azerbaijan's territory, including Nagorno-Karabakh and seven adjacent regions, has since been occupied by Armenia.
Gochag was one of the many Azerbaijani youths who volunteered to the battle and then he was only 15. In that war Gochag got an eye wound and lost his home.
When Armenian troops occupied Nagorno-Karabakh and neighboring regions in 1992-1993, Gochag's family as well as their fellow citizens had to leave their homes and property to wander from one region to another.
In 1998 they came to the capital Baku. Here Gochag started his life from the beginning, he tried to do any job to support his family, but he still was eager to study music.
Once he came to the Baku musical college and asked one of the music teachers to listen to his voice. At that moment, Gochag did not know that he had damaged his vocal cords in the war. The audition failed, but a year later he came back and the same teacher did not believe that it was the same person he considered unfit for singing just a year ago.
In 1998, Gochag managed to enter Baku musical college to the class of famous mugham singer, honorary Azerbaijani artist Zabit Nabizadeh and graduated from the college in 2001.
In 2004 Gochag continued his musical education in Baku National Conservatory, where in addition to singing he was taught the theory and history of music and social sciences in the class of another great Azerbaijani mugham singer, Arif Babayev.
Askarov's international debut and first solo concert took place on February 15, 2007 at the stage of London Brunei Gallery Theatre. Diz Heller, Assistant Art Director at ARC Music Productions Int. Ltd., after the concert made an acquaintance with Gochag. Heller decided to release a solo disc of the young unknown Azerbaijani singer. Around the same time Gochag was invited to the BBC radio program "World Routes".
Mugham singer performed at dozens of international music festivals in Europe, Asia, and Middle East. After his successful performance at Shanghai World Music Festival-2014, he was named "Prince of classical Azerbaijani mugham" .
His albums released in 2011 and 2013 were reviewed by Songline, The Wire (UK), Trad, Les Inrocks (France), and All About Jazz (Italy), and many other renowned European magazines.