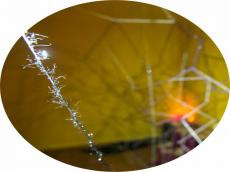 By Azernews
By Laman Ismayilova
YARAT Contemporary Art Space will host a one day exhibition on May 15. Entitled "Who cares?", the event will bring together participants of ARTIM Lab. The artists will highlighting the topics and subjects that matter to them the most.
Sometimes when we are not appreciated, our voices are not heard, surrounding people are not showing empathy, we tend to feel lonely and useless. Then, we feel that we mean nothing to "the universe" revolving around us.
Who cares about what I do? Who cares about what I read, do or wear? Who cares about what I think? Who cares that the birds are singing, the weather is changing or who got married or died? The statement of "who cares" can be continued in many different forms. This is a characteristic expression commonly used to describe the representatives of younger generation likely to have been underappreciated by others.
In his installation, Etibar Ismailov reflects on ornate funeral ceremonies recently trending in Azerbaijan. The artist shows his ironic attitude by exaggerating all of the displayed objects.
Agil Tahirli's "X" photo series touches upon people' personal life choices. He points out everyone's right of free decision making by leaving them to face the contradictions of life.
Through her graphic series, Shahnaz Aghayeva shares her perception on possibility of dual life. According to the artist, the choices are in the hands of people themselves, decisions have to be made independently without the interference by outsiders.
Aydan Mirzayeva's interactive installation - performance is dedicated to the life problems bothering the artist. 
Hatem Alizadeh deals with obstacles, barriers and stereotypes existing around us. The artist explores the origins of the difficulties; where they come from and by whom. 
Mousa Beyzada devotes his performance to different personal identities formed under the influence of religion in various regions of Azerbaijan. 
Chinara Valiyeva complains about formation of international conflicts and their victims being sadly ignored by everyone involved in those geopolitical problems. 
Pop-art style collage by Leyla Guliyeva invites everyone to mind their own business and not intrude into her life.
The exhibition opens at 19:00. Admission is free.