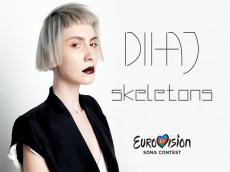 By Azernews
By Laman Ismayilova
Dihaj has revealed Azerbaijan's entry song and clip for Eurovision 2017 contest.
Forty-three countries will participate in the Eurovision 2017 that will take place in the International Exhibition Centre in Kiev, Ukraine, following Ukraine's victory at the 2016 contest in Stockholm with the song "1944", performed by Jamala.
The Azerbaijani singer will be slaying the way through the competition in Kyiv, with the song "Skeletons".
The song "Skeletons" is an epic electro-ballad.  The instrumental of the song delivers strong electronic vibes whilst maintaining a ballad-esque pace. It also compliments Diana's killer vocals, which gently straddle the line between delicacy and strength.
Dihaj enjoys the support of a great team of songwriters and producers with extensive history in Azerbaijan's Eurovision journey. "Skeletons" is written by Isa Melikov and Sandra Bjurman, who both worked with Ell & Nikki in 2011. Melikov also has experience working with Aysel and Russia's Dima Bilan.
Bjurman, meanwhile, has also co-written "Hour of the Wolf" for Elnur in 2015 and "Drip Drop" for Safura in 2010.
Dihaj is the stage name of Azerbaijani singer and musician Diana Hajiyeva. It's taken from first letters of her name and surname. After graduating from Baku Music Academy in 2010 she moved on to the Institute of Contemporary Music Performance in London. 
While in the UK, Diana got involved with the local underground music scene by singing in a progressive trance trio called Looper & Mancus. Around that time, she decided to launch her own band.
In 2014, she created Dihaj, an electronic music collective from Baku. The band's breakthrough single was I Break Again. Diana co-wrote it with Azerbaijani jazz pianist Isfar Sarabsky. Music critics have called the band "experimental doom pop," praising its post-rock guitar riffs, semi-acoustic drum set, and atmospheric vocals.
As the lead singer of Dihaj, Diana has performed at numerous music festivals including Women in Paradise in Amsterdam, the Tbilisi Open Air and AlterVision concerts in Georgia and Kulturos Naktis in Lithuania.
Azerbaijan will act in the first semi-final, which will also see performances of Montenegro, Finland, Georgia, Portugal, Belgium, Sweden, Albania and Australia.
Cyprus, Slovenia, Armenia, Moldova, Czech Republic, Latvia, Iceland, Greece, Poland will perform in the second semi-final.
The Big Five and the host country are directly qualified to the final. Italy, Spain and the United Kingdom will vote in Semi-Final 1. Germany, Ukraine and France will vote in Semi-Final 2.
Azerbaijan has been one of the most consistently successful countries in modern Eurovision. Since debuting in 2008, Azerbaijan has always qualified for the final, and placed in the top 10 six times, including Ell & Nikki's 2011 win with "Running Scared" .