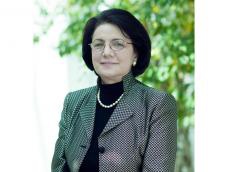 By Azernews
By Laman Ismayilova
The world-famous Kronos Quartet will perform works by Azerbaijani composer Franghiz Alizada during its world tour.
The concert program includes Franghiz's three works, including "Mugam Sayagi", "Oasis" and "Dance", Trend Life reported
This tour of Kronos Quartet is unusual, as the concerts will be followed by workshops for young musicians from 18 countries.
Having commissioned more than 800 new works of music over 40-plus years in action, it now has embarked on a program called Fifty for the Future, a commitment to commission 50 pieces over the next five years, geared to the training of students and young professionals.
Franghiz Alizada enjoys long productive cooperation with Kronos, which has presented her works, including Mugam Sayagi, Absheron and Oasis since 1993.
Alizada, who has been honoured a UNESCO Artist for Peace, is an Azerbaijani composer and pianist, currently living in Germany. She is best known for her works which combine the musical tradition of the Azerbaijani Mugam and 20th century Western compositional techniques, especially those of Arnold Schonberg and Gara Garayev. Her style is characterized by a bold synthesis of these two worlds. She creates music in which Eastern modal thinking merges with Western constructive elements.
Her  works have been performed at festivals in Stockholm, Warsaw, London, Heidelberg, Amsterdam, New York, Boston, Los Angeles, Mexico City, Frankfurt, Berlin, Zurich, Bonn and Cologne.
Kronos Quartet successfully collaborates with many of the world's most intriguing and accomplished composers and performers.
 The group's numerous awards also include a Grammy for Best Chamber Music Performance (2004) and "Musicians of the Year" (2003) from Musical America. 
In addition to composers, Kronos counts numerous performers from around the world among its collaborators, including Azerbaijan's  mugham master Alim Gasimov.