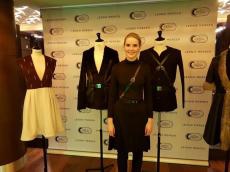 By Azernews
By Laman ?smayilova
Vogue UK has highlighted one of the leading collections to be launched at this year's London Fashion Week – the Karabakh-Collection by the 25-year-old Berlin-based designer,Leonie Mergen.
The coverage came in the wake of the UK presentation of the collection at London Fashion Week, attended by around 5000 members of the international fashion elite, Azertac reported.
 This followed two landmark runway events in Berlin – the world premiere of the collection at the Mercedes-Benz Fashion Week and the L'Oréal Professionel brand event.
The young designer was inspired by the iconography of the Azerbaijani region of Karabakh, which has remained under illegal Armenian occupation for a quarter of a century. She was particularly taken by the Azerbaijani game of chovkan (a more exciting precursor of polo) that originated in the region and is played on Golden Karabakh Horses.
The stunning ensembles features patterns reminiscent of the country's famous tapestries, with signature necklines and sleeved capes making an appearance in both men's and women's clothing. Azerbaijan's legacy as a hub on the historical Silk Road and as a leader in horse breeding can be seen in Leonie's designs, with equestrian-influenced leather accessories and sophisticated silk elements playing an essential role in her collection.
Sleek magazine wrote that the designer combined plunging necklines and sleeved capes with buttery-soft leather and delicate silk – a reference to Azerbaijan's legacy as a hub on the ancient Silk Road. Geometric navy and burgundy patterns evoke the region's infamous tapestries in the designer's distinctive first show."
Writing for C-Heads Magazine, commentator Harry Leath  wrote the following:
"Furs, silk, velvet and leather combine to exude an imperious sophistication whilst conceding a polite modesty in form; it is resplendent with deep, regal colours and rich with warm, classic textures. Mergen is an honest admirer of tradition and shows us how we can marry tradition with progression; we do not have to eschew tradition in order to move forward, we must embrace it with unfettered honesty."
 "The Karabakh-Collection is a very interesting project for TEAS. We are very happy to see that it has created considerable interest in Azerbaijani culture and that it has been picked up by a wide audience, ranging from media representatives all the way to industry professionals," said Taleh Heydarov, Chairman, Founder, TEAS.
 "A fashion collection with this degree of international coverage and attention helps a great deal in showing to a wider public that there is an occupied Azerbaijani region called Nagorno-Karabakh and that steps have to be undertaken to protect our national heritage across all areas of culture and by harnessing the power of civil society," he added.