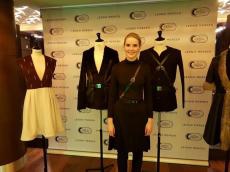 By Azernews
By Laman Ismayilova
This year, all eyes are on "Karabakh Collection" by Leonie Mergen, who has so far captivated fashion world with her new collection.
The Berlin based young designer presented her "Karabakh Collection" in London within the scope of the FASHION WEEK, Azertac reported.
With the rich cultural heritage of Azerbaijan as her inspiration, Leonie released her current collection, a series of pieces inspired by the traditional attire of Azerbaijan's Karabakh region.
The ensembles features patterns reminiscent of the country's famous tapestries, with signature necklines and sleeved capes making an appearance in both men's and women's clothing. Azerbaijan's legacy as a hub on the historical Silk Road and as a leader in horse breeding can be seen in Leonie's designs, with equestrian-influenced leather accessories and sophisticated silk elements playing an essential role in her collection.
The collection features 26 stunning looks while traditional Azerbaijani mugham and instrumental music was playing in the background.
 Leonie Mergen's unusual and intercultural, as well as technically skilled approach was highly appreciated by the attendees.
The spectators were enthusiastic and appraised the fashion collection which represents a further milestone in the European Azerbaijan Society's continuous efforts to raise awareness about the ongoing occupation of Nagorno Karabakh by Armenian forces.
After her "Karabakh Collection" had been highly acclaimed following its presentation to the public during this year's Mercedes Benz Fashion Week Berlin, Leonie was selected by L'Oreal Professionnel for their annual brand event.