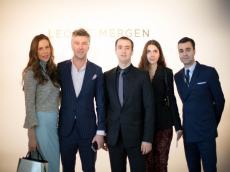 By Azernews
By Laman Ismayilova
An extraordinary event within the scope of the Mercedes Benz Fashion Week in Berlin took place on January 18.
Under the patronage and with the support of The European Azerbaijan Society Germany (TEAS), Berlin based young and fresh designer Leonie Mergen presented her new outstanding "Karabakh Collection" on the runway, which featured the theme and the culture of Karabakh, an Azerbaijani region in the center of the South-Caucasus, Azertac reported.
In the presence of over 500 fashion industry professionals, fashion reporters and international guests the highly anticipated fashion show took place in historic Kaufhaus Jandorf in Berlin Mitte.
Leonie released her current collection, a series of pieces inspired by the rich traditional attire of Azerbaijan's Karabakh region.
The ensembles featured patterns reminiscent of the country's famous tapestries, with signature necklines and sleeved capes making an appearance in both men's and women's clothing.
Azerbaijan's legacy as a hub on the historical Silk Road and as a leader in horse breeding can be seen in Leonie's designs, with equestrian-influenced leather accessories and sophisticated silk elements playing an essential role in her collection.
The collection featured 26 stunning looks while traditional Azerbaijani mugham and instrumental music was playing in the background.
 Leonie Mergen's unusual and intercultural as well as technically skilled approach was highly appreciated by the attendees.
The audience was enthusiastic and celebrated the Karabakh Collection which represented a further milestone in the European Azerbaijan Society's continuous efforts to raise awareness about the ongoing occupation of Nagorno-Karabakh by Armenian forces.
"The Karabakh Collection is a very interesting project for TEAS, and we were happy to give Leonie Mergen, a young Berlin designer, the chance to present Azerbaijan inspired fashion to a worldwide audience and to support her during her inspirational journey through our country." Concerning Nagorno-Karabakh he continued", said Taleh Heydarov, Chairman and Founder of TEAS stressed the importance of the project.
"A fashion collection with this degree of international coverage and attention helps a great deal to show to a wider public, that there is an occupied Azerbaijani region called Nagorno-Karabakh and that steps have to be undertaken to protect our national heritage in all areas of culture and civil society", he added.
The fashion show was followed by a press get-together and revisit where further details of the collection of Leonie Mergen were revealed.