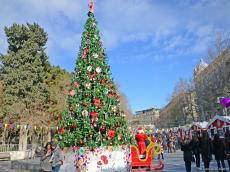 The New Year is already knocking on our doors.
Baku is a special place at the turn of the year. The city is lit up and establishments across the capital pull out all the stops to make this New Year's Eve in the city a memorable one.
Discover the charming city streets, packed with clothing and concept stores and a variety of authentic and trendy restaurants and cafes, each with their own selection of renowned cuisine.
Baku residents and their guests welcome the New Year with a rich music and entertainment program that end with fireworks.