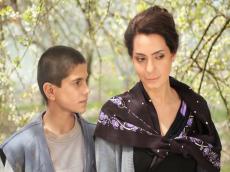 By Azernews
By Laman Ismayilova
The 9th Sofia MENAR Film Festival, scheduled for January 12-29, will display Azerbaijani films.
The Azerbaijani films 'Red Garden' (2016) and 'Urban Motives' (2015) will be screened in the category 'In Focus: Central Asia & Azerbaijan'.
The film 'Red Garden' tells the story of a provincial teacher from blue blood, Abbas. The desperate desire of having his own son makes him so indifferent to orphan in his custody and even to deadlock situation of his beloved spouse Vafa. But everything changes, when he himself causes Vafa's death. Now in the otherworld Abbas is craving to have back all the things that he couldn't protect in this world…
'Urban Motives', the almanac of short films shot by young Azerbaijani directors studying and living abroad, features 'Lady Next Door', 'My Grief Is Light', 'Above and Below' and 'Dmitrov St 86'.
LADY NEXT DOOR -The woman who moved to a new apartment, unwillingly had witnessed the neighbor's rough break–up scene with his lover. She left in tears… Unexpectedly the new neighbor accused him of being heartless and selfish. The fight they had seems would grow into a serious relationship…
MY GRIEF IS LIGHT - The main character is a musician, drunkard and joker. Everybody, including his parents and wife are discontented about him. But for once he along with his musician friends get lucky, they were invited to high society party for performance. It seems that fortune smiled upon him and now he is going to show everybody what he is capable of! But… he fails the performance and gets into scandal.
ABOVE AND BELOW - The novel is about provincial worker who comes to Baku in order to make money. He has a dream about becoming crane operator. But for once, when he has to save his friend – crane operator's life, he overcomes his fear of heights.
DMITROV ST 86 - A casual meeting in the middle of the night. A young man and strange elderly woman who cannot explain the location of her house.
The programme of Sofia MENAR Film Festival presents the best of Middle East and North Africa cinema productions, including feature films, documentaries and short projects
A number of accompanying events are organized within the frames of the festival. These events are particularly selected and bound up with the countries of this region, representing traditions and customs of the ethnic groups that inhabit these lands.