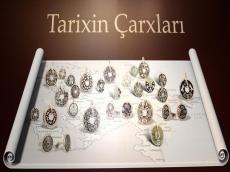 By Azernews
By Laman Ismayilova
Jewelry has always been a very integral part of the human culture. It's an item of everyday life that has a larger significance than many people realize.
We use jewelry to add an extra dazzle to an outfit, whether it be in the form of a bracelet, earrings, cufflinks, or even a watch.
Resm, the first Azerbaijani national jewelry brand has showcased its stunning collection 'Wheels of history' at the Azerbaijan Carpet Museum on December 14.
The unique collection showcased the beauty and cultural diversity of the country's regions, Azertac reported.
Founder and designer of the Resm brand Resmina Gurbatova said the collection presents a modernist interpretation of ancient Azerbaijani ornamental patterns and symbols.
"More than a fashion accessory, Resm pieces are a link to the culture, traditions and, above all, spirit of Azerbaijan", she stressed.
With its timeless character and superb craftsmanship, Resm jewelry allows the wearer to transcend mere fashion trends and enter a realm of relived ancestry.  All Resm pieces come with individual descriptions explaining the design's historical context, the origin of ornaments and traditional patterns.
These unique and exclusive artifacts make an ideal gift for anyone with a natural penchant and affinity toward beauty and heritage.