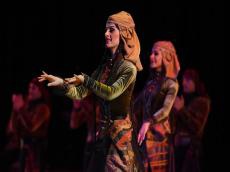 By Azernews
By Laman Ismayilova
Ajaria is an autonomous republic in Georgia, in the southwestern corner of that country, adjacent to the Black Sea and the Turkish frontier.
All year long immersed in green forests and washed by the Black Sea this ancient land situated at the bottom of mountain ridges of Minor Caucasus is fabulously beautiful and unique.
Being one of the most beautiful parts of Georgia, Ajaria is also rich with folklore traditions and cultural heritage.
The ancient musical instruments, including string chonguri and panduri, wind salamuri, doli and stviri, are still played on national holidays. The Georgian folk dances amazes with flowing and graceful movements.
Residents and guests of Baku had an opportunity to familiarize with the culture of Ajaria last week, as the Adjara State Song and Dance Academic Ensemble performed here on December 9.
The unforgettable show took place at one of the most distinguished venues of Baku, the Heydar Aliyev Palace, Trend Life reported.
Gorgeous folk music and excellent choreography won the hearts of Baku audience. Special attention was given to the folklores.
The Adjarian Song and Dance State Company has been founded in 1921.  The first show concert took place in 1922 and surpassed all expectations.
In 1925 the collective has received the status of Adjara State Song and Dance Academic Ensemble.
During its existence, the ensemble has visited Egypt, Syria, Sudan, Albania, Poland, Denmark, Iran, Spain, Italy, Germany, Bulgaria, Azerbaijan, Moldova, Ukraine, Belarus, Russia, Lithuania, Latvia, Estonia and other countries.
The art director of the ensemble is the honored artist of republic Tamaz Bezhanidze, choreographer- Amiran Paichadze, conductor- Ruslan Gvazava.