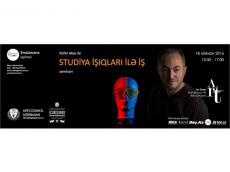 By Azernews
By Laman Ismayilova
ART Tower invites everyone to join a workshop designed to teach the fundamentals every photographer needs to know to easily set up studio lighting and capture stunning images.
Lighting is the most important component in the work of the photographer. It creates the atmosphere and mood in photography.
Together with photographer Rufat Abas you will learn various creative photography lighting techniques.
Co-organized by ArtsCouncil Azerbaijan and State Historical and Architectural Reserve "Icherisheher", the event will be held on December 18.
The training programme will cover such topics as general knowledge about the nature of light, technical processes and equipment, commercial objectives and much more.
The workshop will be useful both for amateur and professional photographers. Entrance is free.
Media partners of the event are Trend.az, Day.az, Milli.az
Born and raised in the capital of Azerbaijan, Baku, Rufat Abas began his life in photography when his uncle bought him an old soviet camera "?????" (Smena) to his 10th birthday.
He was a schoolboy when just learned to develop black and white films and make prints using  small bathroom as a darkroom. With years passed photography became for him something more than just a hobby.
Rufat Abas started his life as a professional photographer more than ten years ago. His passion for creating images has evolved to include portrait, still life, event, and street photography.
"My photographs stand out because they have a style that is personally creative and graphically strong. I hope with the help of my web site and blog you will know more about me, my photos and style", says photographer.