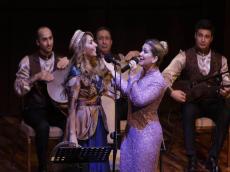 By Azernews
By Laman Ismayilova
The ashug art combines poetry, storytelling, dance and vocal and instrumental music into a traditional performance art, which is a symbol of Azerbaijani culture.
Characterized by the accompaniment of the saz, a stringed musical instrument, the classical repertoire includes 200 songs, 150 literary-musical compositions known as dastans, nearly 2,000 poems in different traditional poetic forms and numerous stories.
A gala concert honoring the memory of great Azerbaijani and Turkish ashugs was organized by the Culture and Tourism Ministry, Azerbaijan Ashugs Union,   Turkic Culture and Heritage Foundation, Yunus Emre Institute with the support of the Turkish Embassy in Baku.
The very special concert program, which included the best folk songs of two brotherhood states-Turkey and Azerbaijan, was held at International Mugham Center.
Chairman of Azerbaijan Ashugs Union, honored art worker Magerram Gasimli, adressing the event, stated that the state has always showed a special care and attention to the ashug art.
He also reminded that the art of Azerbaijani Ashugs was included in the UNESCO`s Representative List of the Intangible Cultural Heritage of Humanity in 2009.
Ibrahim Yildirim, Director of Yunus Emre , in his speech, said that a number of musical evenings with the participation of Azerbaijani and Turkish musicians will be held in near future.
Then, musicians made their way to the stage. The absolutely faultless performance of Ankara State Turkish Folk Music together with famous Turkish singer Armagan Elchi amazed the audience.
For many years, the singer masterly performs folk and modern songs. This time, Armagan Elchi thrilled the Baku audience with amazing improvisation of famous ashug songs.
The eye-catching concert featured famous songs of the Ashug Alesker, Rayhan, Veysel, Samsara, Gulu Askerov, Qadir Rustamov, Mohammed Hussein Shakhriyar, Pir Sultan Abdal, Mahzuni Sharif and other ashugs.
The ensemble "Spring" captivated the audience with its energy and soulful melodies.
The performance of talented singer Elnara Abdullayeva was accompanied by instrumental ensemble "Khagan".
In the end, Turkish and Azerbaiajni singers appeared together on the same stage.