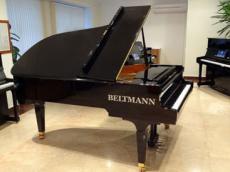 Paul Steele, founder of BaldHiker.com and avid hiker, climber and trekker has written another article about his travel to Azerbaijan`s Gabala town. The article entitled "The Piano man of Azerbaijan" is available on baldhiker.com.
Paul Steele says: "Unique, interesting, fascinating and delightful. Whilst touring around Gabala in the north of Azerbaijan I took time tour the Beltmann Piano factory. Greeting me at the door for the tour was the man himself, Hanz Leferink. In the middle of his gorgeous landscape a Dutch piano building master? Time for more uniqueness I felt.
The story started in the year 1901. Johan Beltmann of Deventer in Holland founded Beltmann Pianos. Known now the world over the business of hand-crafting the finest pianos from the finest materials passed down through the Beltmann family. Today it is in the fine and great hands of Hanz Leferink, Johan`s great-grandson. And since 2009 it has all been done here in Azerbaijan.
I loved the enthusiasm of Hanz. Also his pride in getting the factory here to where it is now. Conversion of this factory started in 2008, a long way from Holland and a long way from people whom knew how to hand make pianos. All 14,000 pieces that make up the well known unique design and marvelous sound. The local population in Azerbaijan provided a fresh workforce. The famous and unique Beltmann floating soundboard that has to be just perfect.
So many stages beyond this, even before any kind of tuning. When looking at the materials used it is very easy to see that quality and class is a priority. To name just some you have: Solid spruce from for the soundboard from Austria. Steel for the strings from Röslau, Germany. Felt from England. The Hammerheads from Germany, the special great frames locally made in Azerbaijan. To me and my tone deaf ears I heard the notes as they minutely adjusted strings and keys. To the patient and enthusiastic workers it was adjusting to make even more perfect, it was mesmerizing to watch them work. Then before goodbyes it was time for a special treat. Hanz sat at one of the recently made pianos and gave a little performance that spellbound us.
Gabala truly is one of the most beautiful places in Azerbaijan, a mountainous town that hosts an International Classic Music Festival and International Piano Competition every year. The Gabala Music Festival has seen world`s famous classic performers including London Royal Philarmonic Orchestra, the Moscow Soloists, the Tartini Quartet and others. The people of Azerbaijan are well-known for their love to music, especially classic music. It is very common for many families in Azerbaijan to have piano and national music instrument such as tar or saz."