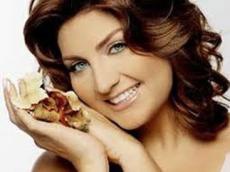 Turkish folk pop singer Sibel Can will perform in Baku. According to head of the "Ses Organization" Nahid Emiloglu, the concert of the singer will be held on October 6.
Sibel has been known as one of the most successful and powerful singers in Turkey. The achievements to her music would cause her to be a successful artist within this genre, as her voice has also become well familiar for Turks of all generations.
Sibel's peak of success came with song called Padi?ah, composed & written by Serdar Ortaç, which was released in 1997. The song managed to earn her many awards, as it was one of the most requested singles on Turkish radio and TV stations. In addition to that, the song found itself being played at many Turkish TV shows, soap operas and commercials.
In June 2007, Sibel released Çakmak Çakmak (Your Steel-like Eyes) as the first single from her latest album called Ak?am Sefas? (Evening Delight). The song saw instant success as it was written and composed by Tarkan. In addition to this, a duet version of the same song was also released by the two artists before the song's actual release date.
/
AzerTAc
/