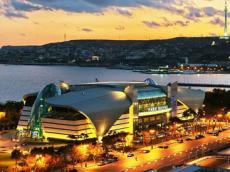 Turkish English-language "Today`s Zaman" newspaper has published an article by Duygu Genç, graduate of the international relations program at the Turkish Armed Forces War Academies Institute for Strategic Research entitled "Azerbaijan from the eyes of a stranger".
The article says: "As part of my research on a graduate dissertation to be submitted to the Institute for Strategic Research of the Turkish Armed Forces War Academies in fulfillment of the graduate program of international relations, I did an internship at the Center for Strategic Research of the Azerbaijani presidency in Baku in June-September 2010. During this period, I had access to information I needed; I also had the chance to get to know Azerbaijan better.
However, knowing Azerbaijan better made me both happy and sad.
I was pleased to become more familiar with its history and civilization and with the respect and care I received there. I was impressed by the attitude, care, interest and respect I received as a foreigner and a Turk from the official authorities at the institution where I completed my internship.
On the other hand, I was saddened by some parts of getting to know Azerbaijan better. From personal experience I learned that the information I acquired from the Western and even Turkish media on Azerbaijan was biased and wrong. I realized that it was extremely wrong to express views on the country without traveling to Azerbaijan and experiencing the facts first hand. I thought I should share my personal views with the readers of this country because of the false accusations in the Western media against Azerbaijan. As I became more familiar with Azerbaijan and its people, my love for the homeland of my ancestors grew.
As I learned more about Azerbaijan, I realized that it has great potential to grow and develop. The results and fruits of the brilliant ideas of Haydar Aliyev, the national leader of Azerbaijan, are visible in the country. It is a fact that Haydar Aliyev is a great leader who cannot be compared to any other leader in the world. Today, most of the leaders in the world pursue national policies, whereas some subscribe to region-based policies. Only a few great leaders hold a global vision by which they pursue global policies. This usually stems from the power of that state, rather than the head of state.
Haydar Aliyev is a rare example that does not fit in this pattern. He sensed the geo-political tricks in the world by virtue of his knowledge, skills and experience; in addition, he was able to lay the groundwork for such a global policy and influence the political processes in the world.
A small state cannot hope to act independently without acknowledging the domination and supremacy of great states, especially while situated in the middle of a jungle of big powers which test their strength, hold clashing views and agendas and pursue conflicting policies. This requires the vision of a strong leader who needs to consider the steps and measures of all other players and take action before them in order to ensure survival. Otherwise, the repercussions could be grave. Georgia is an example of this; Armenia might be just another one.
Owing to the brilliance of Haydar Aliyev, Azerbaijan, a small state in its region, has become an influential state that is entitled to act as a decision maker in geo-political games and entanglements. Ilham Aliyev, who follows the footsteps of his father, Haydar Aliyev, is unique for being a leader who trained next to Haydar Aliyev for four decades. The Azerbaijani people elected him as their president because of this. It is not surprising that such a leader attracted a great deal of popular support.
In conclusion, despite the biased approach by some media outlets, the Eurovision song contest was successfully held in Azerbaijan. And as confirmed by impartial media, this was the best contest ever in the history of Eurovision. Azerbaijan proved that it has attained a great level of civilization. Now it is time for Europe and other Western states to get the proper idea of Azerbaijan from the stories of the participants, rather than the reports by the correspondents that have nothing to do with the reality."
/
AzerTAc
/