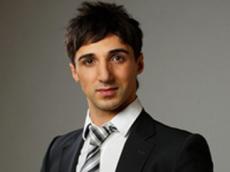 Azerbaijani ballet star Ulvi Azizov will perform at the Prague State Opera in the Role of Basil in the premiere of "Don Quixote" on Feb.19.   
Ulvi Azizov can be called one of the most successful ballet soloists in Europe. He was able to charm the biggest stages in the short period of time.  Now he is a leading actor at the Prague State Opera, visiting leading actor of the Kiev National Opera, the Slovak National Theatre, the Azerbaijan Academic Theater of Opera and Ballet Theatre, performs in tandem with Etoile in Paris 'Grand Opera'.
He participated in several World International Ballet Galas and various festivals in Italy, Finland, Ukraine, Turkey, Germany, Russia, performing Igidler and Gaytagi (chor. U.Azizov) and Breakthrough (chor. A.Leimanis).
He is a successor of his father - famous dancer of former USSR period, People's artist of Azerbaijan Rafig Azizov. From 1992 till 2003 Ulvi Azizov studied at the Baku Choreographic School, P.Agaliu first experimental class. In 2002 Ulvi Azizov won the Prize of the International Ballet Competition and the Special Prize of the city St.Polten, Austria.
/
Trend
/