Azerbaijan Defense Minister Safar Abiyev and Defense Industry Minister Yavar Jamalov are scheduled to make an official visit to Pakistan.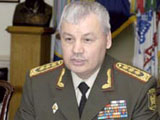 The meetings during the visit are to cover cooperation between Azerbaijani and Pakistan in defense industry, APA reports.
Azerbaijani Embassy in Pakistan and Foreign Ministries of the two countries are preparing for the visit.
Safar Abiyev and Yavar Jamalov are said to hold several official meetings in the Pakistani Defense Ministry. Defense Industry Minister Jamalov will talk with the Secretary of Pakistan Defense Ministry Shaig Siddig Termidi on cooperation prospects.
During attending the IDEAS international military exhibition in Pakistan, Azerbaijan showed interest to JF-17 multirole fighters as well as tanks and small arms made in Pakistan.