Hydrocarbons produced in the Caspian Sea could be shipped to European markets through Romania, the country's president Traian Basescu said Wednesday during a two-day visit to oil-rich Azerbaijan.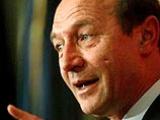 Romania "is interested in the transport of energy resources from the Caspian basin," Basescu said at a joint press conference with Azerbaijani President Ilham Aliyev.
Romania, which joins the European Union next year, "could make its contribution to supplying Europe with oil," Basescu said, adding that the two presidents discussed a proposal on building a pipeline between Romania and Italy that would carry Caspian crude.
Azerbaijan is a burgeoning oil exporter and recently launched the Baku-Tbilisi-Ceyhan oil pipeline, which ships crude from the landlocked Caspian to Turkey's Mediterranean coast.
Visiting leaders from a number of Black Sea littoral states, including Ukraine and Moldova, have expressed interest in transiting Azerbaijani oil through their territory for subsequent re-sale in western Europe. AFP
/BakuTODAY/