The State Committee for Securities registered the issue prospectus of ordinary book-entry bonds of Azerigazbank OJSC.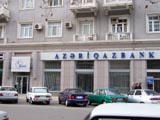 The volume of the issue is AZN 1,800,000; face value per stock is AZN 2. According to the issue prospectus, placement will be held by means of the public subscription method at the Baku Stock Exchange.
Azerigazbank will act as the underwriter of placement of stocks.
Those intending to purchase stocks can apply to an organization being the member of Baku Stock Exchange CJSC and having a brokerage license, APA reports.