12th Azerbaijan International Construction Exhibition (BakuBuild 2006) and 4th International Furniture and Woodworking, Interiors and Design Exhibition (BakuMebel 2006) will start tomorrow.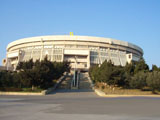 The four-day exhibitions will be hosted by Iteca Caspian, an exclusive partner of ITE Group, and supported by Emergencies Ministry, Economic Development Ministry, Baku mayor's Office, the Chamber of Commerce and Industry, Azerbaijan Export and Investment Promotion Foundation (AzPromo), Architects Union, Union of Turkish Industrialists and Businessmen (TUSIAB), National Confederation of the Entrepreneurs (Employers) Organizations of Azerbaijan Republic (AEC).
The exhibition organizers held a press conference today, APA reports.
Manager Yana Sapurnova said that Azerbaijan International Construction Exhibition will gather over 210 companies from 20 world countries. 40% of the companies intending to take part in the exhibition are newcomers to the world market.
Korean, French and Slovenian products are new in the exhibition.
The main sectors of the construction exhibitions are Sanitaryware, Interiors, Windows & Doors, Heat & Vent, Lighting, Saunas & Swimming pools, BuildTech, Building Materials, Ceramic & Stone, Flooring. 4th International Furniture and Woodworking, Interiors and Design Exhibition will be attended by 22 companies from 7 countries.
The main sectors of this exhibition are Furniture for apartments are furniture for hospitals and clinics, offices, banks, public institutions and trade centers, hotels, restaurants, sport and entertainment centers, Blinds, tulle, wallpapers, phytoproducts, tapestry, lamps, mirrors, glassware, carpets and floor carpeting, mattresses and beddings, Equipment and instruments, facing materials, furniture and accessories, lacquers, paints and glues, upholstery fabrics.