1 146 404 tonnes of Azerbaijani oil was transported through Baku-Tbilisi-Ceyhan (BTC) in September.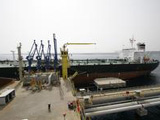 As APA reports, 8 tankers carrying 817 554 tonnes of oil sailed to the world market from Ceyhan last month. 4 924 377 tonnes of oil have to date been pumped into the pipeline.
Since the BTC came on line, 3 103 000 tonnes (32 tankers) of oil have been delivered to the world market up to October 1.