Russian Economic Development and Trade Minister German Gref said Friday that neither Georgia nor any other country had the right to veto Russia's accession to the World Trade Organization (WTO).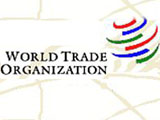 "I think that attempts to use ultimatums and force in any dialogue are not the best way to solve problems, especially economic ones," Gref said commenting on Georgia's withdrawal of its approval of Russia's WTO accession, ITAR-TASS reported.
Under WTO rules, the accession of new members must be approved by a two-thirds majority of the existing members.
Multilateral agreements on a new member's accession apply between the new member and WTO members that approve the new member's accession. But they do not apply between the new member and members that do not consent to the new member's accession.
Georgia, a member of WTO since 2000, agreed to Russia's entry into the WTO in 2004 but withdrew its approval in July 2006, saying that it would renegotiate its accord with Russia.
The withdrawal followed Russia's decision earlier this year to slap bans on imports of Georgian wine and mineral water.
Russian-Georgian relations reached a new low when Georgian authorities arrested four Russian officers on espionage charges last week.
Following the arrests, Russia recalled its ambassador from Georgia and suspended all transport links with the country. Russia has not restored the links despite Georgia's release of the officers.
Russian authorities have also recently shut down some reportedly Georgian-owned casinos in Moscow, cracked down on several Georgian restaurants and seized Georgian wines that allegedly violated health regulations. Prime-Tass