Azerbaijan Ukrainian President Viktor Yushchenko on Thursday urged oil-rich Azerbaijan to send Caspian Sea crude for delivery through a Ukrainian pipeline that has been the subject of geopolitical jostling in the former Soviet Union.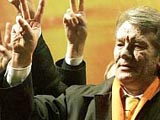 Following talks with Azerbaijani president Ilham Aliev, Yushchenko said Ukraine's state oil company has proposed that Azerbaijan commit to sending 4.5 million to 5 million tons of oil a year that would be pumped through the pipeline leading from the Black Sea port of Odessa to Brody, near the Polish border.
Azerbaijani oil could be refined and sold in Ukraine, Yushchenko suggested, and could eventually be pumped further into Europe through an existing pipeline into Slovakia and later through a proposed extension of the Odessa-Brody pipeline into Poland.
Ukraine has been debating how to use the pipeline for years, amid Russia's strong lobbying for it to pump Russian oil in the opposite direction - to Odessa for further transport to western markets trough Turkey's Bosporus.
The Western-leaning Yushchenko, and the United States, have favored using it to pump Caspian oil.
Aliev made no commitments but welcomed the proposal, saying that by 2008 he expects a new U.S.-backed pipeline from the Caspian to the Turkish Mediterranean shore to be filled to capacity.
"In the coming years the volume of production and export will rise, and so it is very interesting for us to consider the question of alternative routes," he said.
The two leaders spoke after meeting for two hours and signing a joint declaration that Aliev said "bears witness to the high level of political relations and the desire to strengthen them."
Yushchenko is seeking to lessen Russia's influence on Ukraine, in part by seeking other sources of energy. Russia cut off natural gas deliveries briefly in January during a price dispute that ended with nearly twofold hike in the rate Ukraine pays for the gas it relies upon.
Separately, Russia's gas giant OAO Gazprom its chief, Alexei Miller, and Ukrainian Fuel and Energy Minister Yuriy Boyko had met Thursday and agreed on additional supplies for Ukraine in the fourth quarter of 2006.
Gazprom had warned earlier that Ukraine wasn't injecting enough gas into storage facilities to guarantee stable supplies of gas westward to the European Union.
It had said this risked a repeat of supply shortages that Gazprom's EU customers suffered last winter, when Russia says Ukraine illegally siphoned gas from transit pipelines to meet a temporary surge in its domestic demand.
The price for the additional gas will be determined "in a constructive basis, taking into account the strategic perspectives for cooperation in the gas sphere of Ukraine," a Gazprom statement said. Associated Press
/The International Herald Tribune/