Azneft Oil Production Unit extracted 677 700 tonnes of oil during August, having implemented the forecast by 104.5 percent. The extracted oil was a 26 830 tonnes rise on the same period last year.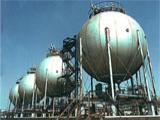 SOCAR press service told APA that gas production also rose during this period.
371 215 cubic meters of gas were produced against the planned 320 715 cu m that is implementation of the forecast by 116.1 percent.
During January-August the gas production anticipation was implemented by 104.5 percent. In August the daily gas production rose to 2.7 cubic meters. It is planned to raise the production to 3.5 cu m in September.