As of September 1, the number of the debtor taxpayers fell to 12 000 from 45 000 during the period of January-August.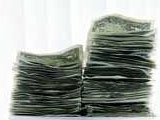 Bakhtiyar Gahramanov, chair of the department for the compulsory collection of tax debts of the Taxes Ministry, told that the total tax debts constitute AZN 1.08bn of which 60 percent is of the state-run enterprises and 40 % is of the private sector.
"70 percent of the debtors owe up to AZN 1 000, and 20 percent up to AZN 10. 95 percent of the debtors are the corporate persons and 2 percent are natural persons. The debts of Value Added Taxes are 30 percent."
He added that debts of AZN 13mn of the enterprises privatized in 2005 were written off and debts of AZN 12mn of the enterprises privatized during the past period of the year were written off. Now Barmek-Azerbaijan has no debts left.
Mr. Gahramanov said that some additions and changes will be made to the Taxes Code. One of the changes is to reduce the period for payment of the debts through court after the warning from 60 days to 30 days. The other change is to increase the penalty interest to 0.1 percent from 0.05 percent.
137 000 taxpayers are registered by the Ministry of Taxes, APA reports.