The 7th meeting of Azerbaijani-Ukrainian intergovernmental commission took place in Baku today.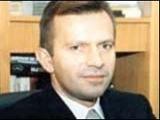 The commission was co-chaired by Azerbaijani Deputy Prime Minister, Yagub Eyyubov, and Ukrainian Deputy Prime Minister, Andrey Klyuev.

As APA reports, issues on ecconomic cooperation, increase of goods turnover, energy cooperation, Ukraine participation in building military industry of Azerbaijan and purchase of diesel fuel from Azerbaijan were discussed at the meeting.
An agreement was also reached on payment of USD 5.3-mn debt of Ukraine to Azerbaijan because of diesel fuel purchase in 2000.
Ukrainian delegation expressed interest in purchasing oil products from Azerbaijan.
The volume and conditions of oil export to Ukraine will be made exact soon.
Transportation of the Caspian oil through Odessa-Brodi pipeline and attraction of Azerbaijani companies to the project on stretching this pipeline to the Baltic and North Seas were also deliberated on at the meeting.
The commissions signed a protocol on the results of the meeting.