On August 31, the Naftogaz of Ukraine Company CEO Vladimir Sheludchenko departed to Azerbaijan as a member of governmental delegation.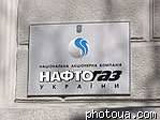 Sheludchenko will attend the seventh sitting of the Ukrainian-Azerbaijani intergovernmental commission on economic cooperation. The issues of engaging Azerbaijani companies - oil owners - to realization of a project on producing, refining, and transportation of light Caspian oil via Odessa-Brody pipeline, as well as its proposed completion up to the ports of the Baltic and North Seas will be discussed at he sitting.
It is expected that on September 1, the intergovernmental commission members will sign an agreement on cooperation in the energy sphere between Ukraine and Azerbaijan.
/Regnum/