Today a delegation led by Southern Korean Commerce, Industry and Energy Minister, Lee Won Gul, exchanged views with Azerbaijani Economic Development Ministry officials.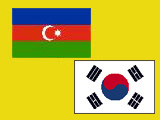 At the meeting co-chaired by Azerbaijani Economic Development Minister, Niyazi Safarov, and his Korean counterpart, Lee Won Gul, a protocol on mutual understanding.
Following the discussion Mr. Safarov told a press conference that these discussions follow the May meeting of Azerbaijani and Korean presidents.
"Our discussion and meetings are of great importance for both the economic development of Azerbaijan and building good relationship with Southern Korea. We are determined to continue meetings and talks in future. The both parties' hard efforts will yield good results."

He also said that Southern Korea is very interested in many-sided and long-term cooperation with Azerbaijan and some 20 issues on trade, investment, communications, energy, agriculture and other fields were discussed at meetings and talks.
70-member Southern Korean delegation has visited Azerbaijan since August 27. The delegation includes governmental officials and well-known company representatives, APA reports.