International Monetary Fund mission led by Vitali Kramarenko has visited Baku.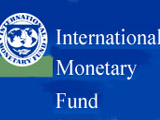 As APA reports, the mission also includes economists-Maira Zermeno and Shuan Ding.
The mission today visited the Finance Ministry and State Statistical Committee.
And they are expected to visit Economic Development Ministry and National bank of Azerbaijan today. The mission is expected to meet SOFAZ, Social Protection Fund of Azerbaijan, SOCAR and National Bank of Azerbaijan.
The principal aim of the visit is to discuss Draft State Budget for 2007, basis of macroeconomic policy with the Government.