Bank Respublika board chair Hadija Hasanova and Huub Cornelissen, the director for Europe & Central Asia of Holland's FMO (financial development company) have signed a $10 million credit agreement.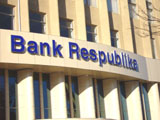 The credit line, whose period is four years, including two-year subsidized term, is designed for financing small and medium business. One credit can amount $1 million.
According to Hasanova, this is one of the largest credit agreements in the history of private bank business of Azerbaijan, testifying of high interest by international financial institutions to the country and its bank sector. The current agreement will let the Bank to increase credit lines for small- and medium-size companies, Sharg news agency informs.
"The credit line will allow BR (in 2005-06 its credit portfolio rose by 60%) to increase both business financing and amount of a loan per borrower," Hasanova said.
Once the Dutch Company opened a $2 million credit line for BR for trade financing. Thus, FMO overall crediting for BR totaled $12 million. "For the first time in country's bank practice BR receive a credit equal to its banking capital," Hasanova said.
Overall amount of the various financial institutions' credit lines opened for BR exceeded $50 million.
The deal with FMO was concluded due to German investment corporation DEG which together with SIDT owns 25%+1 share in Bank Respublika.
"Signing of the credit agreement with BR is a significant event for FMO, BR and the country as it opens FMO operations in Azerbaijan. We're ready to extend different types of credits and financing, including involvement in banking capital. Limit per organization can range $10 million to $20 million," Cornelissen said.
FMO is one of the leading financial institutions in the world. It runs activity in about 50 countries. 51% of FMO capital belongs to the Dutch government and the rest to diverse juridical entities and individuals.
/BakuTODAY/