Azerbaijan's Republic Bank and the Netherlands Development Finance Company (FMO) signed a contract on Monday to open a $10 million credit line to develop small and mid-sized entrepreneurship in Azerbaijan.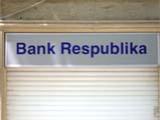 Republic Bank CEO Khadidzh Gasanov and FMO Europe and Central Asia Director Huub Cornelissen signed the contract, an Interfax correspondent who was at the ceremony reported.
The contract is for four years and two of them are a discount period.
"This is one of the biggest contracts in the history of the private banking business in Azerbaijan," Gasanov said. "This is the second credit line that FMO has provided to Republic Bank. The previous one was for $2 million. Thus, the amount of credit lines FMO has provided to Republic has increased to $12 million," he said.
Republic Bank was set up in February 1992. It was 513th on the Interfax-1000 list of the CIS' biggest banks in terms of assets for 2005.
/BakuTODAY/